Xitintoday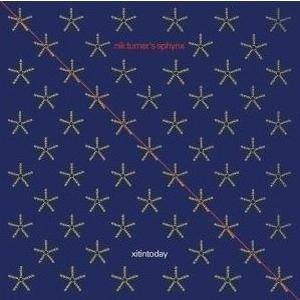 Artist:
Nik Turner's Sphynx
Tracklist
A1
The Awakening (Life On Venus)
A2
The Pyramid Spell
A3
The Hall Of Double Truth
A4
Anubis
A5
Thoth
B1
Horus
B2
Isis And Nephthys
B3
Osiris
B4
God Rock (The Awakening)
Credits
Bass - Mike Howlett
Design, Typography [Cover] - Barney Bubbles
Drums - Alan Powell
Drums - Malcolm Ashmore
Guitar, Vocals - Steve Hillage
Guitar, Vocals, Keyboards - Harry Williamson
Keyboards, Harp - Jeremy Gilbert
Percussion - George Kazazian
Percussion - Morris Pert
Saxophone, Flute, Vocals - Nik Turner
Synthesizer - Tim Blake
Voice - Miquette Giraudy
Notes
Comes with a 16-page booklet.
The cover art of this release embodies the style of concrete poetry forms which inspired the piece, developed from 'The Egyptian Book Of The Dead'. The word 'Twinkle' is used to form star motifs.
Strawberry Bricks Entry:
Following his departure from Hawkwind in 1976, Nik Turner decamped to Egypt, only to find his host was being deported. But through some twist of fate, he secured recording time in the Great Pyramid (Chepos) of Giza. There, he recorded hours of flute improvisations, all of which would form the basis of his first solo album, Xitintoday. Upon returning to England, he enlisted Steve ("Stiv") Hillage to produce an album from the tapes. Most of the Gong crew (including Mike Howlett, Miquette Giraudy, Tim Blake and Harry Williamson) appeared, along with Alan Powell from Hawkwind. Fittingly, Turner adapted text from the Egyptian Book of the Dead to the music; and in doing so, assembled one incredibly unique album. With very little rhythm to give it traction, the music simply floats over the first side—from track to track and over endless flute passages, heavily-processed spoken word vocals and bubbly synths—to provide the ultimate Egyptian-inspired trip. The second side's "Isis and Nephthys" finally gets a little forward propulsion, culminating in the excellent "God Rock (The Awakening)." Released by Charisma Records, it's a testament to the times that the record even saw commercial release. Turner then assembled a band, Sphynx, to play a few festivals over the next few years, including Deeply Vale and Glastonbury; he also guested on Gilli Smyth's Fairy Tales album. But Turner then turned his back on the hippiedom of the 1970s for the much more immediate "punkadelic" rock of Inner City Unit—with Dino Ferari and Trev Thoms from Steve Took's Horns, as well as Philip "Dead Fred" Reeves and Mo Vicarage. He would spend most of the early 80s in this band, before returning to Hawkwind briefly in 1982.