Yellow Submarine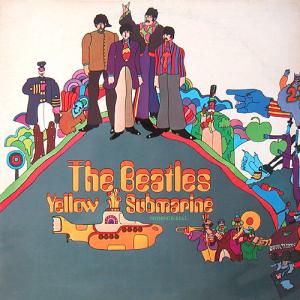 Tracklist
A1
Yellow Submarine
2:37
A2
Only A Northern Song
3:23
Notes:

Written-By - George Harrison

A3
All Together Now
2:08
A4
Hey Bulldog
3:09
A5
It's All Too Much
6:27
Notes:

Written-By - George Harrison

A6
All You Need Is Love
3:48
B1
Pepperland
2:18
B2
Sea Of Time & Sea Of Holes
5:16
B3
Sea Of Monsters
3:35
B4
March Of The Meanies
2:16
B5
Pepperland Laid Waste
2:09
B6
Yellow Submarine In Pepperland
2:10
Notes:

Arranged By [Arr.] - George Martin
Credits
Composed By [Original Film Music], Orchestrated By [Original Film Music] - George Martin
Liner Notes - Dan Davis
Producer - George Martin
Written-By - George Martin
Written-By - Lennon-McCartney
Notes
1st U.S. Apple pressing.
Selections by the Beatles plus original film music.
Side A features several pop songs played in the movie.
Side B features the orchestral portions of the soundtrack.
All tracks published by Maclen Music, Inc., BMI.
Manufactured by Capitol Records, Inc., a subsidiary of Capitol Industries, Inc. Factories: Scranton, PA, Los Angeles, CALIF, Jacksonville, ILL. Printed in U.S.A.