YS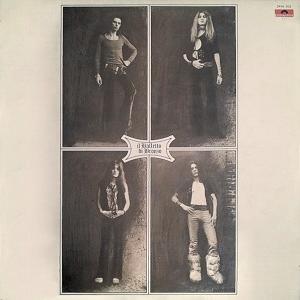 Artist:
Il Balletto Di Bronzo
Tracklist
A1
Introduzione
A2
Primo Incontro
B1
Secondo Incontro
B2
Terzo Incontro
B3
Epilogo
Credits
Bass - Vito Manzari
Drums - Gianchi Stringa
Engineer [Assistant] - Michele Muti
Engineer, Mixed By - Franco Sala
Guitar - Lino Ajello
Keyboards - Gianni Leone
Mixed By - Gaetano Ria
Mixed By [Collaboration With] - Detto Mariano
Vocals, Organ, Piano, Mellotron, Synthesizer [Moog], Spinet, Celesta - Gianni Leone
Written-By - Nora Mazzocchi
Notes
Released in a fold-out cover with a 6-page book glued inside, that contains artwork and the lyrics.
Strawberry Bricks Entry:
Italy, more than any other country represented in the timeline, produced some of the most genuine and decadent progressive rock during the early 70s. Even more obscure than the English "cult classics," only the polycarbonate and aluminum of the compact disc has allowed for these treasures—which were originally pressed in the hundreds—to be resurrected from both oral legend and obscurity. One of the prime examples is Il Balletto di Bronzo ("Bronze Ballet"). Another Neapolitan band, their debut album Sirio 2222, released in 1970 on RCA, owed much to 60s psychedelia; prog rock it certainly wasn't. However, in 1971, guitarist Lino Ajello and drummer Giancarlo Stinga added two new players to the lineup: bassist Vito Manzari and, most significantly, ex-Città Frontale keyboardist Gianni Leone. Leone quickly instigated a new musical direction for the band; the resulting album, Ys, remains one of the most revered classics of the era. A concept album about a mythical city in Breton folklore, the album consists of five movements. With a foreboding chorus, "Introduzione" unfolds to the classically-inspired organ of Leone. Halfway through the track, Manzari's bass cues up a prog rock workout that the band hammers out with a manic intensity reminiscent of Van der Graaf Generator. While the band is up to task, it's Leone's keyboards that steal the show, presenting a classic palette throughout: With organ, piano, Mellotron, Moog and spinet (similar to a harpsichord), it's an almost dissolute pleasure. Leone's Italian vocals and the female chorus are similarly discordant, as "Secondo Incontro" ("Second Encounter") attests; yet throughout the album, Il Balletto di Bronzo is heavy, dissonant, reckless, completely over the top and all the more wonderful for it. This is classic rock progressivo Italiano. The band attempted an English language version of the album; however, it never saw completion. (Decades later, two tracks were released as a CD single; in addition to the English lyrics, it features a different mix from the album). After a round of touring and a second single in 1973, the band broke up due to lack of success.