Angel's Egg (Radio Gnome Invisible Part 2)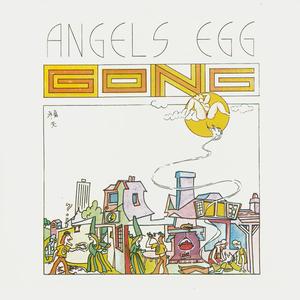 Tracklist
A1
Other Side Of The Sky
7:40
A2
Sold To The Highest Buddha
4:25
A3
Castle In The Clouds
1:09
A4
Prostitute Poem
4:52
A5
Givin' My Love To You
0:43
A6
Selene
3:38
B1
Flute Salad
2:09
B2
Oily Way
3:37
B3
Outer Temple
1:09
B4
Inner Temple
2:34
B5
Percolations
0:46
B6
Love Is How You Make It
3:27
B7
I Never Glid Before
5:36
B8
Eat That Phone Book (Coda)
3:12
Credits
Bass - Mr T. Being
Drums, Marimba, Vibraphone - Pierre De Strasbourg
Engineer - Simon Heyworth
Flute, Saxophone [Tenor, Soprano], Backing Vocals - Bloomdido Bad De Grass
Glockenspiel - Mireille Bauer
Guitar - Steve Hillage
Guitar, Vocals - Dingo Virgin
Producer - Giorgio Gomelsky
Producer - Gong
Synthesizer, Vocals - Hi. T. Moonweed
Vocals [Spacewhisper] - Shakti Yoni
Notes
Recorded in France, August 1973 by the Manor Mobile.
When this was released, Virgin were phasing out the Roger Dean 'Twins' label. Only early copies bear this label, later ones have the red and green Virgin logo label, but they are essentially the same pressing, not to be confused as separate issues.
Strawberry Bricks Entry:
While Daevid Allen and Gilli Smyth were off in Majorca, the core group of Tim Blake, Steve Hillage and Didier Malherbe—with newcomers Mike Howlett on bass and Pierre Moerlen on drums—spent the spring touring France as Paragong. When the couple returned, this "classic" lineup completed their first UK tour in the summer, and then returned to France to record the second installment of the Radio Gnome Invisible trilogy. In terms of musical composition, this album is one of the more democratic in Gong's oeuvre, with all members participating; but the story is, once again, all Allen's. Angel's Egg eschews lengthy numbers for more of a storybook presentation. That said, the album opens with "Other Side of the Sky," one of Gong's most ornate invocations. Malherbe's lyrical alto saxophone and Blake's spacey synthesizers gradually rise as the groove gains mass, culminating in Hillage's distinct guitar runs. The straightforward rocker "Sold to the Highest Buddha" follows, and quickly morphs down into a jazzy groove; next, Hillage's space guitar returns for "Castle in the Clouds." The sexy "Prostitute Poem" highlights both Smyth's unique space whisper and feminism, while Allen responds with his sympathetic "Selene." The second side begins with Malherbe's signature "Flute Salad" before sliding down into the pure fun of "Oily Way." "Outer Temple" features another glorious groove, something that would be fully exploited on Gong's next album. The percussion of "Percolations" turns tuneful for "Love Is How Y Make It (sic)," the lyric of which is the most straight-forward and unambiguous Gong's mythology would ever get. Finally, the album ends with two songs proper: Both Hillage and Allen trade off vocals on "I Niver Glid Before (sic)," and Malherbe's "Eat That Phone Book Coda" closes succinctly. Performed impeccably and with considerable production, Angel's Egg is one of the few albums of the era that is just plain fun, and remains the most coherent presentation of Allen's mythology with Gong.