Canis Lupus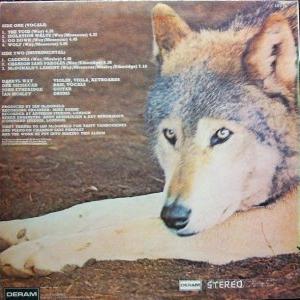 Artist:
Darryl Way's Wolf
Tracklist
A1
The Void
4:35
A2
Isolation Waltz
4:37
A3
Go Down
4:45
A4
Wolf
4:06
B1
Cadenza
4:48
B2
Chanson Sans Paroles
6:28
B3
McDonald's Lament
7:10
Credits
Bass, Vocals - Dek Messecar
Drums - Ian Mosley
Engineer [Recording] - Mike Dunne
Engineer [Remix] - Andy Hendriksen
Engineer [Remix] - Ray Hendriksen
Guitar - John Etheridge
Producer, Tambourine, Piano - Ian McDonald
Violin, Viola, Keyboards - Darryl Way
Strawberry Bricks Entry:
Violinist Darryl Way left Curved Air earlier in the year to form Wolf, and assembled a remarkably talented group: young guitarist John Etheridge had his professional start here, while Ian Mosley had previously drummed for Walrus. Canadian Dek Messecar joined on bass and vocals, and King Crimson's Ian McDonald produced Wolf's ensuing debut album, Canis Lupus. Needless to say, expectations were high. Way carried on his brand of progressive music, predictably mixing classical elements with heavy rock. The first side contains vocal numbers; though unfortunately, Messecar's voice proves nondescript. "The Void" clicks along, while "Isolation Waltz" gets heavy; there's a slightly psychedelic and spooky feel they're aiming for and ultimately achieve. The second side is instrumental (with democratic composition credits) and proves more successful. "Cadenza" is a regular hoot, highlighting Way's acoustic violin and some nice, clean guitar lines from Etheridge; while "Chanson Sans Paroles" features Way's considerable keyboard skills. The band recorded a second album, Saturation Point, shortly after; it also was released by Deram in 1972. Wolf then added John W. Hodgkinson from If on vocals and cut what would be the band's final album, Night Music. In mid-1974, Way returned to Curved Air, for a reunion tour to pay off an outstanding tax bill; however, he ultimately stayed on, which brought Wolf to an end. Etheridge joined Soft Machine and Messecar went on to Caravan. Mosley recorded an album with Dutch progressives Trace and ex-Genesis guitarist Steve Hackett before becoming a member of the neo-progressive heavyweight Marillion in 1983.