Danger Money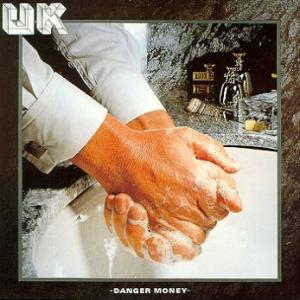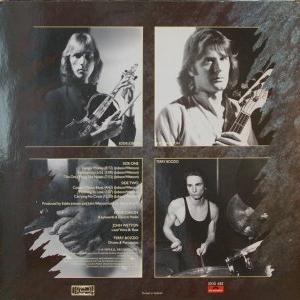 Tracklist
A1
Danger Money
8:15
A2
Rendezvous 6.02
5:00
A3
The Only Thing She Needs
7:57
B1
Caesar's Palace Blues
4:45
B2
Nothing To Lose
3:58
B3
Carrying No Cross
12:22
Credits
Artwork By [Cover Design], Photography - Hipgnosis
Drums, Percussion - Terry Bozzio
Engineer - John Punter
Engineer [Assistant] - Nigel Walker
Mastered By - George Marino
Other [Crew] - Dave Fidler
Other [Crew] - Graham Davis
Producer, Arranged By, Keyboards, Violin [Electric], Written-by - Eddie Jobson
Producer, Arranged By, Voice [Lead], Bass, Written-by - John Wetton
Recorded By [Backing Tracks] - Geoff Emerick
Notes
Recorded at A.I.R. Studios London, England, November 1978 - January 1979.
Mastered at Sterling Sound, New York, N.Y.
Special thanks to Mark Fenwick and Sam Alder of E.G.
All songs published by E.G. Music.
Songs copyright (C) E.G. Music Ltd. 1978.
(P) 1979 E.G. Records Ltd.
Printed and Made in U.S.A.
Strawberry Bricks Entry:
Following the prior year's tour commitments, Bill Bruford and Allan Holdsworth would split to pursue their jazz-rock leanings in the drummer's band, leaving Eddie Jobson and John Wetton to chase a more commercial path with U.K. Holdsworth's position at guitar would not be filled, while American drummer Terry Bozzio was recruited to replace Bruford; he came from Frank Zappa's band, where Jobson had previously spent a year (1976), following his departure from Roxy Music (1975). Released in March, Danger Money was another excellent album from U.K. The title track kicks things off, and along with "Nothing to Lose," they're typical of the straightforward rock that would eventually become Asia's signature. Wetton's distinct voice is high in the mix, while the melodies are quite tuneful. "The Only Thing She Needs" turns up the rock lever, while "Caesar's Palace Blues" features Jobson's violin. Both "Rendezvous 6:02" and the longer "Carrying No Cross" are the album's highlights. More intricate and intense, the tracks showcase Jobson throughout, as he provides one of the last great keyboard performances of the decade. Yet it was 1979 and the temperament for prog rock was thin—especially with Wetton. U.K. would then tour the United States supporting Jethro Tull. A live album, Night After Night, recorded in Japan, saw release in September, however by the end of the year, U.K. were no more. From there, Jobson offered his services to Jethro Tull for their A album and tour, before immigrating to the US. Wetton's next move would be to record his first solo album.