Flying Teapot (Radio Gnome Invisible Part 1)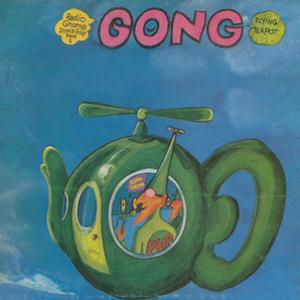 Tracklist
A1
Radio Gnome Invisible
5:30
Notes:

Written-By - Daevid Allen

A2
Flying Teapot
12:30
Notes:

Written-By - Daevid Allen
Written-By - Francis Moze

B1
The Pot Head Pixies
3:00
Notes:

Written-By - Daevid Allen

B2
The Octave Doctors And The Crystal Machine
2:00
Notes:

Written-By - Tim Blake

B3
Zero The Hero And The Witch's Spell
9:45
Notes:

Written-By - Christian Tritsch
Written-By - Daevid Allen

B4
Witch's Song / I Am Your Pussy
5:10
Notes:

Written-By - Daevid Allen
Written-By - Gilli Smyth
Credits
Artwork By [Cover Design] - Dingo
Artwork By [Cover Design] - Maggie
Artwork By [Cover Design] - Tom Fu
Bass, Piano - Francis Bacon
Congas - Raschid Houari
Drums, Percussion - Laurie Allan
Engineer - Simon Heyworth
Flute, Saxophone [Tenor, Soprano] - Bloomdido Bad De Grass
Guitar - Steve Hillage
Guitar - Submarine Captain
Guitar, Vocals - Dingo Virgin
Producer - Giorgio Gomelsky
Synthesizer, Vocals - Hi. T. Moonweed
Vocals [Spacewhisper], Organ - Good Witch Yoni
Notes
A Byg Virgin Production
Recorded at The Manor Studios, Oxford, UK.
℗ 1973 Virgin Music (Publishers) Ltd.
Cat# on cover & spine: V2002
Title on spine: Radio Gnome Invisible Part 1
Title on labels: Radio Gnome Invisible-Part 1 "The Flying Teapot"
Strawberry Bricks Entry:
While 1971 had been a busy year for Gong (recording three albums), the band spent the majority of 1972 touring and then dealing with lineup changes. Drummers came and went, as did almost everyone else—except for Daevid Allen, Gilli Smyth and Didier Malherbe. In late 1972, the band attended a Kevin Ayers gig in France, where they were introduced to guitarist Steve Hillage. Ladbroke Grove's Tim Blake, around during Allen's Banana Moon sessions, was invited first as a soundman, before returning with a synthesizer. Ex-Magma bassist Francis Moze also joined up, while Laurie Allan returned long enough to play drums on the album. With Gong reconstituted, Allen penned the first installment of the Radio Gnome Invisible trilogy. Part mystic, thoroughly humorous and most certainly psychedelic, Flying Teapot is perhaps the ultimate manifestation of the Gong trip. On the surface, the cabaret of "Radio Gnome Invisible" is plain silly, but the slow-rising mantra rhythm of the title track is pure invocation. The opening lines of "The Pot Head Pixies" say it all: Allen's penchant for writing hilarious lyrics is as natural as his infectious melodies. Blake's "The Octave Doctors and the Crystal Machine" reveals his unique synthesizer talent as well as Malherbe's sublime alto sax, while "Zero the Hero and the Witch's Spell" broods under the much-overlooked rhythm section of Moze and Allan. Smyth's "Witch Song/I Am Your Pussy" concludes in her own inimitable (and sexy) space whisper. All in all, the album remains one of the most consistent albums of the trilogy and a fan favorite, despite somewhat awkward production and substandard recording. Soon after the album was recorded, Allen and Smyth would temporarily take their leave to Majorca for parenthood, while further personnel changes would engage the band for the rest of the year. Gong were one of the first bands to be offered a contract with Richard Branson's new Virgin Records, though legal ties with BYG Records would dog them for years to come.