Freedom Is Frightening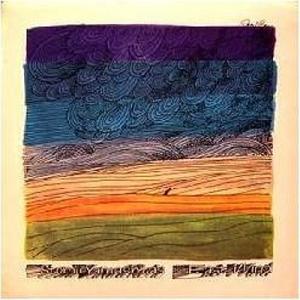 Artist:
Stomu Yamash'ta's East Wind
Tracklist
A1
Freedom Is Frightening
8:48
A2
Rolling Nuns
7:06
B1
Pine On The Horizon
11:44
B2
Wind Words
6:43
Credits
Acoustic Guitar, Electric Guitar - Gary Boyle
Bass Guitar - Hugh Hopper
Design [Sleeve Design] - Saul Bass
Drums [Kit], Percussion - Stomu Yamash'ta
Engineer - Gary Martin
Keyboards, Synthesizer, Vibraphone - Brian Gascoigne
Liner Notes - Mick Watts
Management [Road] - Dick Horner
Photography [Inner Sleeve] - Merlin Turville-Petre
Violin - Hisako Yamashta
Written-By, Composed By, Arranged By - Stomu Yamash'ta
Notes
Recorded at Advision Studios, August, 1973.
Printed inner sleeve includes photograph of band, liner notes, track listing, and credits.
Published by Island Music Ltd.
A L**ner Enterprises Production
℗1973 Island Records Ltd.
Strawberry Bricks Entry:
Hailing from Japan, Tsutomu Yamashita, better known as Stomu Yamash'ta, was a classically-trained percussionist whose earliest recording featured the works of 20th century composers Hans Werner Henze, Peter Maxwell Davies and Toru Takemitsu. After releasing his first original percussion composition, Red Buddha, Yamash'ta toured Europe with his Red Buddha Theatre Company, which eventually led him to London and Island Records. His first two releases for the label, Floating Music in 1972 and Man From The East in 1973, were with fellow percussionist Morris Pert's band, Come To The Edge (which was eventually re-christened Suntreader). Both saw a fusion of eastern and western music, with the latter album also containing pieces for Yamash'ta's theatre company. He then formed his own band, East Wind, with guitarist Gary Boyle, bassist Hugh Hopper and keyboardist Brian Gascoigne. Expectedly, they skirted with another fusion of sound; but this time, it was of the funky-jazz type best demonstrated on the excellent Freedom Is Frightening. The slow-building title track grinds to Gascoigne's organ and Yamash'ta's drums, "Rolling Nuns" undulates over Hopper's bass and "Pine on the Horizon" brings Yamash'ta's percussion to the fore. Its fiery fusion doesn't mind dipping down with a few rockin' breaks, courtesy of Boyle's guitar. Featuring violin from Yamash'ta's wife Hisako, the more pastoral "Wind Words" gently closes the record. Amid touring, another couple of albums would (now with vocalists) appear in quick succession, all again for Island Records.