Greenslade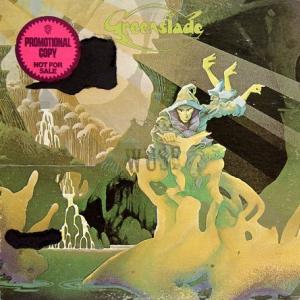 Label:
Warner Bros. Records
Tracklist
A1
Feathered Friends
6:42
A2
An English Western
3:25
A3
Drowning Man
6:40
A4
Temple Song
3:32
B1
Mélange
7:27
B2
What Are You Doin' To Me
4:40
B3
Sundance
8:45
Credits
Artwork By - Roger Dean
Bass, Double Bass - Tony Reeves
Drums, Percussion - Andrew McCulloch
Engineer - Mike Bobak
Engineer [Assistant] - Gregg Jackman
Keyboards - Dave Greenslade
Keyboards, Vocals - Dave Lawson
Producer - Dave Greenslade
Producer - Stuart Taylor
Producer - Tony Reeves
Notes
Recorded at Morgan Studios, London
Strawberry Bricks Entry:
Built on the keyboard talents of its namesake, Dave Greenslade and bassist Tony Reeves had previously been together in Colosseum. Reuniting here, the pair rounded out their lineup with former King Crimson and Kingdom Come drummer Andrew McCulloch and, quite uniquely, a second keyboardist, Dave Lawson, who had previously played in both Web and Samurai. The debut album from Greenslade is nothing short of classic. Don't let the Roger Dean cover fool you; there is no cosmic slop inside, just hard-driving progressive rock. The melancholic "Feathered Friends" opens the album, revealing a rich sonic texture straight from the analog keyboard era. The classically-inspired "An English Western" follows, but with an uncluttered arrangement; the dual keyboard approach never gets too busy and remains effective throughout. "Drowning Man" goes liturgical, while "Temple Song" offers something gentler. The second side features the unabashed prog rock of "Mélange" and "Sundance." Replete with keyboards and time signature changes, it approaches Yes territory, but without the baggage. The album's sleeper is the Lawson-penned "What Are You Doin' to Me." His vocal delivery is superb (as is his voice), while the eastern-tinged Mellotron line predates Led Zeppelin's "Kashmir" by a few years. The album was well-received, and was followed quickly by a second effort, Bedside Manners Are Extra. Guitarist Clem Clempson and violinist Graham Smith joined up for the following year's Spyglass Guest, which reached the UK Top 40. Reeves left for Curved Air by the time 1975's Time And Tide rolled around. Greenslade, however, disbanded the group in 1976, just before releasing a solo album, Cactus Choir. Though all of Greenslade's later records were highly original and appealing, none match the songwriting (or impact) of the band's debut.