Jardin Au Fou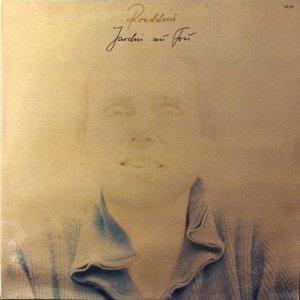 Artist:
Hans-Joachim Roedelius
Tracklist
A1
Fou Fou
3:59
A2
Toujours
2:59
A3
Rue Fortune
2:23
A4
Balsam
2:18
A5
Café Central
3:40
B1
Le Jardin
4:30
B2
Gloria Dolores
4:14
B3
Étoiles
3:55
B4
Schöne Welt
4:48
B5
Final
0:49
Credits
Cello – Ulrike Lau (tracks: B2, B3)
Drums – Greene (tracks: A3)
Flute – Wolfgang Dünnschede (tracks: B2)
Guitar – Hans Brandeis (tracks: B2)
Producer – Peter Baumann
Notes
Recorded and mixed April/Juli 1978 at Paragon Studios, Berlin
Track B5 is not listed on the sleeve
Produced by Peter Baumann for Paragon
Strawberry Bricks Entry:
Born in 1936, Hans-Joachim Roedelius's life story before he arrived in Berlin in the late 60s is as interesting as his musical career. From his unwilling membership in the Hitlerjugend to forced conscription in the DDR's Volkspolizei to Stasi imprisonment to eventual refugee status in West Berlin, Roedelius had endured the worst of WWII Germany by the age of 25. But by the late 60s, Germany, like most of Continental Europe, was going through sweeping cultural changes; and in Berlin, Roedelius helped found the influential Zodiak Free Arts Lab with Conrad Schnitzler. The bulk of the 70s was taken up with projects like Cluster and Harmonia; though toward the end of the decade Roedelius ventured beyond his collaborations with musical partner Dieter Moebius to tackle solo projects. First up was Durch Die Wüste in 1978, a collection of pieces recorded with Conny Plank over the prior two years. For 1979's Jardin au Fou ("Garden of Fools"), Roedelius signed with the French label Egg and enlisted Peter Baumann as producer. Much like a music box, the gentle "Fou Fou" opens the album; yet the keyboard-based compositions reveal Roedelius's talent on the instrument. "Toujours" is similar: a playful solo piano piece, punctuated by a descending piano line. "Balsam" puts the studio to great use, with Roedelius's piano augmented by an effective backward effect. From simple compositions, such as the circus-like "Rue Fortune" and brief "Final," to more involved tracks, like the bonus track "Tempera," the album's ten vignettes are at once wistful, serious and calming; they venture toward a light, classical music nature, yet without ever sounding "lite." Roedelius would release further albums on the Sky label, including his Selbsportrait series and the excellent Lustwandel, before signing with EG Records in the early 80s.