July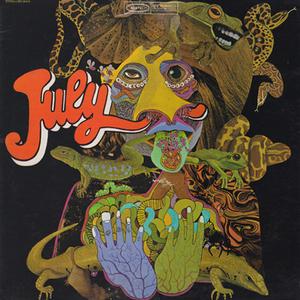 Tracklist
A1
My Clown
3:21
A2
Dandelion Seeds
4:29
A3
Jolly Mary
3:20
A4
Hallo To Me
2:56
A5
You Missed It All
2:48
A6
The Way
3:20
B1
To Be Free
2:46
B2
Move On Sweet Flower
3:23
B3
Crying Is For Writers
2:34
B4
I See
2:59
B5
Friendly Man
3:09
B6
A Bird Lived
2:38
Credits
Performer - Alan James
Performer - Chris Jackson
Performer - Jon Field
Performer - Tom Newman
Performer - Tony Duhig
Producer - Tommy Scott
Written-By - Chris Jackson
Written-By - Tom Newman
Notes
Released on a white Epic label. Retail copies have a yellow label.
Strawberry Bricks Entry:
Hailing from Ealing, in west London, were two R&B groups, The Tomcats and Second Thought. In 1965, they combined, renamed themselves Los Tomcats and headed off to Spain for a couple of years for some moderate success. Returning to London in 1967, psychedelia was in full swing, prompting a change. Rechristened as July, the band included vocalist and guitarist Tom Newman, percussionist Jon Field, lead guitarist Tony Duhig, bassist Alan James and drummer Chris Jackson. Their debut album, July, was released in 1968 on Irish label Major Minor Records, but not before their first single, "My Clown" b/w "Dandelion Seeds" in June. The B-side is pure freakbeat, a hybrid of heavier R&B and psychedelia, and representative of the band's sound on the album. "Jolly Mary" though owes more than a passing resemblance to Barrett-era Pink Floyd, while "The Way" nods towards The Pretty Things, and the middle section of "Move on Sweet Flower" opts for some Procol Harum-inspired poetry. But that's not to say July weren't original. "You Missed It All" begins with a rudimentary conga beat, then offers a cool breakdown, while "Friendly Man" harnesses all the power of a studio available in 1968. The album's a perfect example of all that's good about the psychedelia of the era, poor sales notwithstanding. Following the band's breakup in 1969, Duhig and Field departed for Jade Warrior, where their music blossomed with originality. Newman became the house engineer for Virgin Records' The Manor Studio, producing Mike Oldfield's Tubular Bells and many other recordings, while also recording two of his own solo albums later in the mid-70s.