Måltid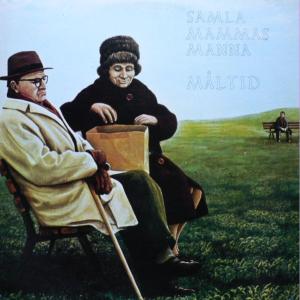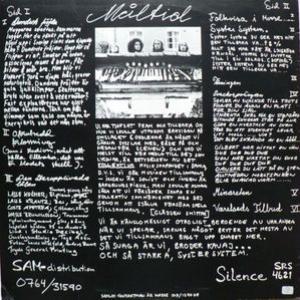 Artist:
Samla Mammas Manna
Tracklist
A1
Dundrets Fröjder
10:43
A2
Oförutsedd Förlossning
3:10
A3
Den Återupplivade Låten
5:53
B1
Folkvisa I Morse
2:07
B2
Syster System
2:27
B3
Tärningen
3:33
B4
Svackorpoängen
3:11
B5
Minareten
8:21
B6
Værelseds Tilbud
2:26
Credits
Bass - Lars Krantz
Drums, Percussion - Hasse Bruniusson
Guitar - Coste Apetrea
Lyrics By, Music By - Samla Mammas Manna
Mixed By - Anders Lind
Painting [Cover] - Tage Åsén
Photography By - Anders Blume
Photography By - Lasse Wikfeld
Piano, Electric Piano - Lars Hollmer
Vocals - Coste Apetrea
Vocals - Hasse Bruniusson
Vocals - Lars Hollmer
Vocals - Lars Krantz
Notes
Recorded in Studio Decibel, autumn 1973.
Strawberry Bricks Entry:
Lars Hollmer, Hans Bruniusson, Lars Krantz and Henrik Bebben Öberg formed the Uppsala-based Samla Mammas Manna in 1969. Not your typical rock band, even by a long shot, they released their self-titled debut in 1971 on Sweden's Silence Records. Mostly centered on Hollmer's electric piano and organ, it was a mishmash of ideas and lo-fi recording in the keyboardist's chicken house. Subsequently, percussionist Öberg dropped out; and prior to their second album's recording, guitarist Coste Apetrea joined up. Released in 1973 on Silence, Måltid ("meal time") is a hallmark of the band's unique style. Certainly, the album contains inspiration from Frank Zappa and a healthy dose of improvisation; but the root of SMM's compositions lie in Nordic folk tunes—SMM's trick is turning these themes into modern rock. "Dundrets Fröjder" starts with a bevy of ideas, eventually settles down for a verse or two of nonsense lyrics and then rises again into a tight groove, augmented by Mellotron; if only it went on longer. Throughout the album, bassist Krantz and drummer Bruniusson are incredibly tight, driving each musical fragment to the next with ease. "Syster System" flows into the bouncing riff of "Tärningen," which is a veritable display for Apetrea's guitar. "Minareten" closes, and it's another potent exhibition of SMM firepower. Released in 1974, the band's next album Klossa Knapitatet continued where the previous left off, and their next project saw the band record Gregory Allan Fitzpatrick's Snorungarnas Symfoni in 1976. Apetrea split in the mid-70s to work with guitarist Jukka Tolonen and members of Wigwam; and in 1978, the rest of SMM participated in Chris Culter's inaugural Rock in Opposition festival: a movement the band would embrace. Yet with guitarist Eino Haapala now on board, SMM switched their spelling to Zamla Mammaz Manna for another round of albums, again on Silence. By the early 80s, though, Hollmer and Haapala were recording as Von Zamla, yet retiring the name altogether in 1982.