(No Pussyfooting)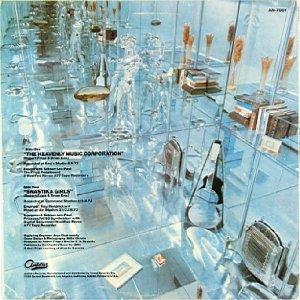 Tracklist
A
The Heavenly Music Corporation
20:55
B
Swastika Girls
18:43
Notes:

Engineer - Ray Hendriksen
Credits
Design [Cover], Photography - Willie Christie
Mastered By [Mastering Engineer] - Arun Chakraverty
Producer - Brian Eno
Producer - Robert Fripp
Written-By - Fripp & Eno
Notes
Songs published by E.G. Music Ltd., © 1973
"The Heavenly Music Corporation"
Recorded at Eno's Studio 8.9.72
Equipment: Gibson Les Paul, the Fripp Pedalboard, 2 modified Revox A77 tape recorders.
"Swastika Girls"
Recorded at Command Studios 4/5.8.73
Mixed at Air Studios 21/22.8.73
Equipment: Gibson Les Paul/Frizzbox/VCS3 synthesizer with digital sequencer/Modified Revox A77 tape recorder.
Strawberry Bricks Entry:
Robert Fripp and Brian Eno paired up for this recording more than a year prior to its release. At the time, Eno was still in Roxy Music (but soon on his way to a solo career), while Fripp was busy recruiting for King Crimson. Recorded in Eno's front room, the album's centerpiece is "The Heavenly Music Corporation;" it's Fripp's guitar feed looped-back through two tape recorders. The result? You guessed it: heavenly music. So if you've a liking for those heavy, sustained Fripp guitar solos, or if you're interested in the roots of Eno's ambient adventures, look no further. The second side, recorded a year later at Command Studios, seems more manipulated and dense, but to equal effect. The album also is one of the first releases of "process" music in a rock context, though certainly not the first, nor the last: Eno would create an entire catalog parallel to, and eventually eclipsing, his pop releases. First up for Eno was his Discreet Music in 1975, followed by Music For Airports in 1977. Fripp too would further investigate this territory toward the end of the decade, with his self-described "Frippertronics" technique. In addition, No Pussyfooting was one of the first experimental releases from two (more or less) rock stars, and saw release on Island's Antilles subsidiary. The pair would release a second album Evening Star two years later, but the statement had already been made.