Not An Ordinary Life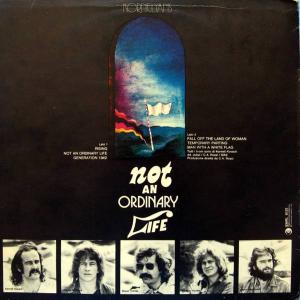 Tracklist
A1
Rising
A2
Not An Ordinary Life
A3
Generation 1942
B1
Fall Off The Land Of Woman
B2
Temporary Parting
B3
Man With A White Flag
Credits
Carlo Alberto Rossi - Producer
Kornelije Kovač - Written-By
Performer [Band Member] – Boyan Hrellac*, Joseph Bocheck*, Kornell Kovach*, Vladimir Furduy*, Zlatko Peyakovich*
Producer – C.A. Rossi*
Recorded By – Ria Gaetano*
Written-By [Tutti I Brani Sono Di] – Kornell Kovach*
Notes
Single cover with lyric inner.
Original release issued in Italy, where the record had been recorded.
Strawberry Bricks Entry:
Back in the 60s, the Iron Curtain split the divide between what was known as Eastern and Western Europe. As much of a cultural border as it was a political one, little music drifted from one side to the other. Yugoslavia, a conglomeration of several republics held together by Marshal Tito since the end of WWII, fell somewhere in between, just beyond the shadow of the USSR. The 60s saw most native groups, such as Yu Grupa or Bijelo Dugme, concentrate on pop singles; but by the early 70s, the more aggressive bands reached out toward the progressive, recording and releasing full-length albums for state-run record labels such as Jugoton or PGP-RTB. Korni Grupa formed in 1968 in Belgrade, but it wasn't until 1972 that their debut album saw the light of day. A curious mix of heavy rock and jazz leanings, the band was led by its namesake and keyboardist, Kornelije Kovac and new vocalist Zlatko Pejakovi?. With swinging melodies and positively electric guitar from Josip Bocek, the album held up to the standards of rock from the West. For the band's second album, Italian Dischi Ricordi stepped in, along with producer Carlo Alberto Rossi (CAR Juke Box label); the result was the English-language album Not An Ordinary Life under the name Kornelyans. The bright "Rising" introduces the band, while the longer title track offers brisk, shifting original progressive rock with a rousing instrumental workout. "Fall of the Land of Woman" features some pyrotechnic guitar and keys, while the "Man with a White Flag" is another well-constructed epic, again on par with anything from the West. Pejakovic's voice is particularly strong throughout, while Kovac is a top-shelf musician and composer. Also released as a single, "Generation 1942" works well with an extended arrangement here, but its memorable chorus is what steals the show. And yet, after a poor showing at the 1974 Eurovision Song Contest and no international fortunes from the Ricordi deal, the band broke up in late 1974 after a series of farewell concerts—part of which was recorded and released as the double-album Mrtvo.