Ralf & Florian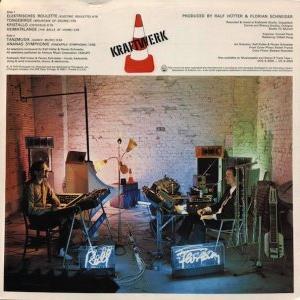 Tracklist
A1
Elektrisches Roulette
4:19
A2
Tongebirge
2:50
A3
Kristallo
6:18
A4
Heimatklänge
3:45
B1
Tanzmusik
6:34
B2
Ananas Symphonie
13:55
Credits
Design [Musicomix] - Emil Schult
Design [Musicomix] - Florian Schneider
Design [Musicomix] - Ralf Hütter
Engineer - Conny Plank
Music By, Producer, Design [Cover] - Florian Schneider
Music By, Producer, Design [Cover] - Ralf Hütter
Photography [Colour Photo] - Barbara Niemöller
Photography [Front Cover] - Robert Franck
Vocals, Keyboards, Strings, Wind [Wind Instruments], Drums, Electronics, Performer [Realisation] - Florian Schneider
Vocals, Keyboards, Strings, Wind [Wind Instruments], Drums, Electronics, Performer [Realisation] - Ralf Hütter
Notes
Initial copies included a free "musicomix" cartoon poster designed by Emil Schult.
Recorded & mixed May to July 1973 at Kraftwerk-Studio, Düsseldorf; Cornet Studio and Rhenus Studio, Cologne and Studio 70, Munich.
All compositions & comic published by Kling-Klang-Verlag ©1973.
At the runouts appears > side A: E > side B: H
Both literals are turned 90° to usual appearance.
Strawberry Bricks Entry:
Kraftwerk starts and ends with Ralf Hütter and Florian Schneider. The duo first recorded with Organisation, a band that released one album, Tone Float in 1970, before establishing themselves as Kraftwerk (with the others off to Ibliss). Both Klaus Dinger and Michael Rother (later of Neu!) interned with a Schneider-led band early on, which is well-documented in the video "Truckstop Gondolaro" from German Beat Club television. The duo reunited for their second album, now substituting a rhythm machine for a drummer. This album too stemmed from krautrock tradition, though also touched the avant-garde with psychedelia. With more emphasis on melody, their third album, Ralf & Florian, represents a stylistic shift. The opening track "Elecktrisches Roulette" gets about as manic as Kraftwerk would ever be, but exactly why the melody sounds like the Gilligan's Island theme song is anyone's guess! Schneider's echoed and multi-tracked flute opens the following "Tongebirge," with synthesizers lumbering underneath. "Kristallo" puts a clavinet in one channel, while the other contrasts with a fuzzy pulsating synthesizer. The track ambles along, drifting to silence before fading back into the mix at double-time. Weird. The effervescent "Tanzmusik" begins the second side, with a coy piano riff riding over the "artificial" beat of the rhythm machine. But the closing track, "Ananas Symphonie" ("Pineapple Symphony"), is the sleeper. Full of incredible detail, it evokes a mellifluous aura over its 14 minutes, like a wave-swept beach. The album remains an underrated entry in the Kraftwerk catalog, and perhaps a lost link between prog rock and krautrock. The picture of the duo on the back of the album's cover speaks, as they say, a thousand words. The album was reissued in 1975 by Vertigo Records.