Remember The Future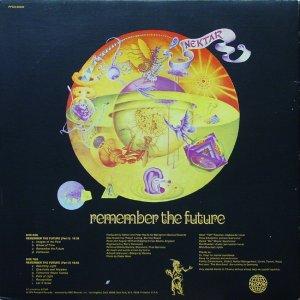 Tracklist
A1
Images Of The Past
2:47
A2
Wheel Of Time
5:15
A3
Remember The Future
5:11
A4
Confusion
3:43
B1
Returning Light
1:45
B2
Questions And Answers
5:07
B3
Tomorrow Never Comes
2:08
B4
Path Of Light
4:17
B5
Recognition
3:18
B6
Let It Grow
3:20
Credits
Bass, Vocals - Derek Moore
Design [Cover Design] - Helmut Wenske
Drums, Percussion, Vocals - Ron Howden
Engineer - Barry Hammond
Guitar, Lead Vocals - Roye Albrighton
Keyboards, Vocals - Allan Freeman
Mastered By - Bob Ludwig
Mixed By - Dieter Dierks
Photography - Dieter Weis
Producer - Nektar
Producer - Peter Hauke
Notes
Gatefold Cover
Recorded in August 1973 at Chipping Norton Studio, England.
Mastered at Sterling Sound.
Remix at Dierks Studio, Stommeln, West-Germany
Special Thanks to Dr. Voigt for mental assistance
Barry for patience and endurance
Family Zimmermann, Michel, Nektar Management, Vinnie, Tommie, Klaus
And also "The Man Band" (for coming to Germany).
Very special thanks to Channy without whose help we couldn't survive.
P 1973 Bellaphon Records
C 1974 Passport Records / marketed by ABC Records, Inc. Los Angeles, Ca , 90048, N.Y. 10019
Printed in U.S.A.
Remember The Future is basically one long track : Part I (16:38) and Part II (18:55).
Strawberry Bricks Entry:
Having road-tested some of the material the previous summer, Remember The Future splits its single title down the album's two halves; the individual track names banded on the vinyl, Nektar offers two song cycles that run continuously. The story revolves around a bluebird and a blind boy, but I won't go there; I'll let Nektar relate that to you. The sprightly opening section, "Images of The Past," bounces beneath Roye Albrighton's rhythm guitar. Immediately, the vocal harmonies hit you: one of Nektar's endearing trademarks. Propelled by Mo Moore and Ron Howden's brisk rhythm, the second section "Wheel of Time" slows the tempo and reveals a little more detail in the arrangement. "Remember the Future" then grumbles and pulses under Taff Freeman's grinding organ. Nektar even get downright heavy on the closing "Confusion," with Albrighton delivering a classic psychedelic lead guitar. The second side again presents another lengthy song cycle. Both "Questions and Answers" and "Tomorrow Never Comes" follow the pattern of the first side: well-polished and highly melodic. But after that, the band gets bluesy and funky for the final few songs. The album was successful in Germany, and even managed to enter the US Top 20 the following summer through radio airplay. This eventually prompted the US label Passport Records to reissue some of the band's back catalog, often in slightly remixed versions. Nektar's next release was 1974's Sunday Night At The London Roundhouse, though that wasn't completely accurate. One side of the album was indeed recorded live at London's Roundhouse, but the other contained excerpts from a jam the band had in the studio after completing their 1973 record. While accurately capturing the spontaneity of the band's performance, both sides reveal the heavier rocking side of Nektar.