Repeat Repeat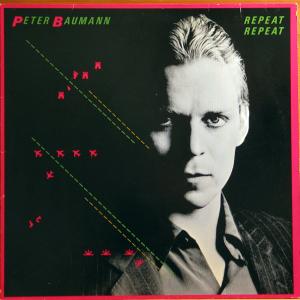 Tracklist
A1
Repeat Repeat
3:43
A2
Home Sweet Home
3:44
A3
Deccadance
3:11
Notes:

Drums - Carsten Bohn

A4
Realtimes
3:25
A5
M.A.N. Series Two
3:37
Notes:

Drums - Carsten Bohn

B1
Brain Damage
2:45
B2
Kinky Dinky
3:14
B3
Daytime Logic
2:51
Notes:

Music By - Carsten Bohn

B4
Playland Pleasure
3:27
B5
What Is Your Use?
3:30
Credits
Art Direction, Design - Harriet Bauersox
Backing Vocals - Linda Kay Brynan
Drums - Mike Dawe
Engineer - Alan Douglas
Engineer - Jan Hammer
Engineer, Recorded By [Additional], Mixed By [Additional] - Jack Nuber
Guitar - Richie Fliegler
Keyboards - Carsten Bohn
Management - Elliott Sears
Music By, Lyrics By, Keyboards, Synthesizer, Programmed By [Computer, Synthesizer], Vocals, Engineer - Peter Baumann
Photography - Nick Samardge
Producer - Peter Baumann
Producer - Robert Palmer
Rhythm Guitar - John Tropea
Synthesizer [Custom Designed Computer] - Andreas Bahrdt
Notes
Recorded at Cronex Media Studio, New York, N.Y.
Engineered by Peter Baumann at Red Gate Studio, Kent, N.Y.
Engineered by Jan Hammer at Compass Point Studios, Nassau, Bahamas.
Engineered, additional recording and mixed by Jack Nuber at Town House Studios, London.
℗ 1981 Virgin Records Ltd.
Printed in Western Germany by Mohndruck Graphische Betriebe GmbH, Gütersloh.
Lyrics are printed on the rear cover.