Sky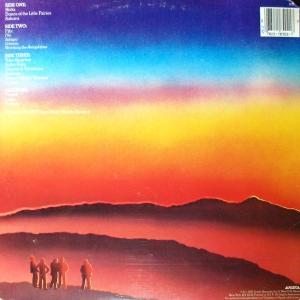 Tracklist
A1
Hotta
7:46
A2
Dance Of The Little Fairies
3:31
A3
Sahara
6:56
B1.1
Fifo
6:44
B1.2
Adagi
2:29
B1.3
Scherzo
4:19
B1.4
Watching The Aeroplanes
3:33
C1
Tuba Smarties
3:18
C2
Ballet-Volta
2:45
C3
Gavotte & Variations
6:14
C4
Andante
2:58
C5
Tristan's Magic Garden
4:09
C6
El Cielo
4:20
D1
Vivaldi
4:03
D2
Scipio Parts I And II
12:09
D3
Toccata
4:42
Credits
Francis Monkman - Performer [Sky Were]
Herbie Flowers - Performer [Sky Were]
John Williams - Performer [Sky Were]
Kevin Peek - Performer [Sky Were]
Tristan Fry - Performer [Sky Were]
Haydn Bendall - Producer
Sky - Producer
Tony Clark - Producer
Notes
Gatefold sleeve.
Includes a 10 x 10 inch sheet with comments about every title and a presentation of the artists.
(P)1980 Arista Records, Inc.
This release is widely known as Sky 2. Most other versions states "Sky 2" on the cover, centerlabels and spine. Just this US-version and a Canadian one appears without this number-title.