Still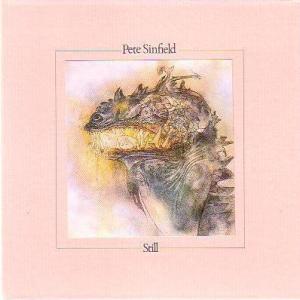 Tracklist
A1
The Song Of The Sea Goat
6:04
Notes:

Flute [Alto], Flute [Bass] - Mel Collins
Music By - Antonio Vivaldi
Music By - Peter Sinfield
Music By - Phil Jump

A2
Under The Sky
4:16
Notes:

Music By - Ian McDonald
Music By - Peter Sinfield

A3
Will It Be You
2:38
Notes:

Music By - Mennie
Music By - Peter Sinfield
Music By - Phil Jump
Music By - Richard Brunton
Music By - Steve Dolan

A4
Wholefood Boogie
3:37
Notes:

Backing Vocals - Greg Lake
Music By - Mennie
Music By - Peter Sinfield
Music By - Phil Jump
Music By - Richard Brunton
Music By - Steve Dolan

A5
Still
4:45
Notes:

Lead Vocals [Joint] - Greg Lake
Music By - Mennie
Music By - Peter Sinfield
Music By - Phil Jump
Music By - Richard Brunton
Music By - Steve Dolan

B1
Envelopes Of Yesterday
6:17
Notes:

Music By - Peter Sinfield

B2
The Piper
2:47
Notes:

Music By - Peter Sinfield

B3
A House Of Hopes And Dreams
4:06
Notes:

Electric Guitar - Greg Lake
Music By - Peter Sinfield

B4
The Night People
7:54
Notes:

Music By - Mel Collins
Music By - Peter Sinfield
Music By - Phil Jump
Music By - Richard Brunton
Credits
Producer [Associate, Vocals] - Greg Lake
Producer [Associate], Arranged By [Brass, Flutes], Saxophone [Alto, Tenor, Baritone], Flute, Celesta [Celeste] - Mel Collins
Producer, Lyrics By, Acoustic Guitar [12 String], Synthesizer, Vocals - Peter Sinfield
Notes
A4 is spelled Whole Food Boogie on the vinyl label.
Strawberry Bricks Entry:
Having recently parted ways with Robert Fripp, Pete Sinfield entered Command Studios in London with just about every other King Crimson alumnus to record his first (and only) solo record. And although he'd already capably filled the producer's chair for Roxy Music and PFM, on Still, he had assistance from Greg Lake and Mel Collins. The album's opener, "The Song of the Seagoat," takes its theme from Antonio Vivaldi's well-known Lute Concerto in D Major and offers a good glimpse at what to expect: a very feminine album, with lots of words and a vocal delivery that you will probably either like or hate. It's hard to say when Sinfield is in his element: Songs like "A House of Hopes of Dreams," "Envelopes of Yesterday" and "The Night People" definitely work; none would have sounded out of place on the previous two King Crimson albums. Even "Under the Sky," co-written with Ian McDonald, passes; though Sinfield's hand at rock 'n' roll, "Wholefood Boogie," falls way short of the mark. And perhaps it goes without saying that by 1973, no one should have been recording songs called "The Piper." But all told, the album is a final slice of Sinfield's romanticized art and another glimpse into his piece of the greater King Crimson puzzle. The album was released on ELP's Manticore label to no particular acclaim. Sinfield would continue producing and composing before being "seduced" into working with ELP on a semi-permanent basis.