Tales From Topographic Oceans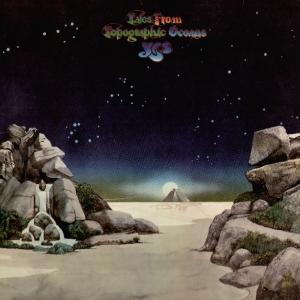 Tracklist
A
The Revealing Science Of God
20:27
B
The Remembering
20:38
C
The Ancient
18:34
D
Ritual
21:25
Credits
Artwork [Plates Made By] – Mansell Litho
Coordinator [Co-ordination] – Brian Lane (3)
Design [Cover], Illustration – Roger Dean (4)
Mastered By – George Piros
Music By, Producer – Yes
Producer – Eddie Offord*
Recorded By – Guy Bidmead
Words By – Anderson*, Howe*
Notes
Recorded at Morgan Studios London during late summer and early autumn 1973.
Brown Atlantic inners.
Rick Wakeman appears courtesy of A&M Records Ltd.
Strawberry Bricks Entry:
Tales From Topographic Oceans has the dubious distinction of being either the mother lode or motherf&#ker of all prog rock albums. The initial idea for the grandiose album came to Jon Anderson from a footnote regarding Shastric scriptures in Paramahansa Yogananda's Autobiography of a Yogi. Evidently, this was the grand concept he'd been searching for (imagine that!), and it allowed his lyrics to blossom into full-blown biblical verse. Together with Steve Howe, they put most of the initial musical ideas down during the same tours of 1973 that generated the triple-album Yessongs. Actualizing those ideas in the studio was of course more difficult, and even wooden cows and accompanying foliage were reduced to compost by the end of the sessions. Drummer Alan White makes his studio debut with Yes on the album. Previously a member of John Lennon's Plastic Ono Band and Ginger Baker's Air Force, journeyman White was most recently with Joe Cocker's touring band. Of course, having Eddie Offord as a roommate made the link to Yes tenable, and White got the nod days before their US tour in July 1972. Spanning four sides of vinyl, the sprawling double-album epitomizes the prog rock axiom of "more is more." The question, however, is-does it work? The first side, "The Revealing Science of God," and to a slightly lesser extent "The Remembering," on the second side, certainly do. They're classic Yes music: melodic and inviting, jam-packed with ideas and inventive playing, on par with the band's previous album. The rest of the trip, however, turns more experimental, but arduous as well. The acoustic number "Leaves of Green" ends the third side; of course, the 15 minutes spent getting there does little except introduce us to the names of some ancient Atlantean peoples and their sun rituals. The final side, "Ritual," suffers a similar fate. In edited form, the beautiful main section of "Nous Sommes Du Soleil" would rival any of Yes' previous work; but at 22-plus minutes, it simply goes on too long. Still, what Yes fan wouldn't want a double-album of new material, teeming with everything they love about the band? Well, Rick Wakeman for one. He made his exit quickly after the album's promotional tour. Critically, the album was universally slaughtered, though it topped the UK charts at No. 1 and rose to No. 6 in the US. So, back to my original supposition: You decide.