Vimana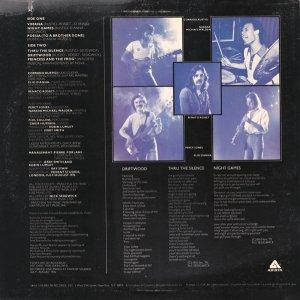 Tracklist
A1
Vimana
7:18
Notes:

Written-By - Corrado Rustici
Written-By - Elio D'Anna
Written-By - Renato Rosset

A2
Night Games
9:37
Notes:

Written-By - Corrado Rustici
Written-By - Elio D'Anna
Written-By - Nick J. Sedgwick

A3
Poesia (To A Brother Gone)
5:11
Notes:

Written-By - Corrado Rustici
Written-By - Elio D'Anna
Written-By - Renato Rosset

B1
Thru The Silence
5:43
Notes:

Written-By - Corrado Rustici
Written-By - Nick J. Sedgwick

B2
Driftwood
10:03
Notes:

Written-By - Corrado Rustici
Written-By - Nick J. Sedgwick
Written-By - Renato Rosset

B3
Princess And The Frog
7:44
Notes:

Congas - Zakir Hussain
Electric Piano [Fender Rhodes] - Narada Michael Walden
Flute [Synthesized] - Elio D'Anna
Written-By - Narada Michael Walden
Credits
Arranged By [Musical Arrangements] - Nova (38)
Art Direction - John Dyer
Artwork By [Cover Art] - Ad Design
Bass Guitar - Percy Jones
Drums - Narada Michael Walden
Edited By [Cut] - Ray Staff
Electric Piano [Fender Rhodes], Piano [Acoustic], Synthesizer [Mini Moog], Clavinet, Keyboards [String Ensemble] - Renato Rosset
Engineer [Assistant] - Geoff Leach
Engineer [Assistant] - Neil Ross
Engineer [Assistant] - Steve Short
Engineer [Assistant] - Steve Taylor
Engineer, Mixed By - Jerry Smith
Lead Guitar, Acoustic Guitar [6 & 12 String], Marimba, Lead Vocals - Corrado Rustici
Lyrics By - Nick J. Sedgwick
Management - Pierre Forlani
Percussion - Phil Collins
Producer, Mixed By - Robin Lumley
Tenor Saxophone, Soprano Saxophone, Flute - Elio D'Anna
Notes
Recorded and mixed at Trident Studios, London, July/August 1976
All titles except "Princess & The Frog" published by Quaraz Music Ltd., represented for the world by Fuse Music Ltd.
All lyrics published by Rock Music Ltd.
"Princess & The Frog" published by Gratitude Sky Music Inc.
℗&© 1976 Arista Records, Inc.
A Subsidiary of Columbia Pictures Industries, Inc.
Printed in U.S.A.
Strawberry Bricks Entry:
After their fiery debut, Nova suffered from some lineup changes. The rhythm section was the first to leave, while Danilo Rustici wasn't far behind. Corrado Rustici and Elio D'Anna then recruited a keyboardist—Renato Rosset from New Trolls Atomic System—and reached out to the fusion world for the rest of the lineup: Narada Michael Walden, ex-Mahavishnu Orchestra, provided drums, while Percy Jones, Phil Collins and Robin Lumley, all on loan from Brand X, filled in with bass, percussion and production, respectively. The title track kicks off; and yes, Nova's still delivering first-class fusion. But there are changes; Rosset's keyboards provide a new texture to the music, while the Jones/Walden rhythm section is certainly nimbler than on the previous work. The contemplative "Night Games," one of only three vocal numbers on the album, slows the pace considerably; and things almost come to a halt on the acoustic meanderings of the ensuing "Poesia (To a Brother Gone)." This track, however, is a veritable showcase for the technical talents of Rustici and Rosset. The second side kicks off with "Thru the Silence," a vocal number with some similarity to their debut album. True to its name, "Driftwood" floats gracefully before locking onto its funky riff. Jones's bass tone is true to his signature sound, while Rustici eventually explodes on electric guitar. Written by Walden, the instrumental "Princess and the Frog" closes, offering a much more conventional fusion—though injected with a funky little section in the middle. Although the fireworks of their debut have settled to embers, Vimana offers further refinement over the previous work. It was the first Nova album to see release in the US, on Arista Records.